If you're looking to try out a diet that is hailed as the most effective weight loss and fat loss tool then the Keto-diet is for you. Keto-diet is a high-fat and low carbohydrate diet. You might be asking yourself, a high-fat diet that will cause me to lose fat? Say what? Well, this is how it works:
In a Keto diet, 60-75% of your calories need to come from fat, 15-30% need to come from protein, and only 5-10% need to come from carbs. You really begin to submerge yourself in the Keto-diet after about two to seven days following the eating routine. This is when your body goes into a state of ketosis in which you begin to use fat as your main energy source rather than carbohydrates. Maintaining a diet rich in healthy fats and lean proteins will restrict your daily caloric intake as you will begin to feel fuller sooner and for longer periods of time. This is where the weight loss wonders of the keto-diet come from.
All diets usually come to end or, at least, face some strong opposition once we travel or spend a majority of our day on-the-go. Here are the top 5 Keto on-the-go snacks and meals! We know all the keto-friendly meals, but what about the middle of the day when you want a quick snack? That's what this list is for. If you have any additions don't be afraid to reach out!
Ketomanna
"Ketogenic Chocolate Wonderfood"
Ingredients: Organic Coconut, Organic Cocoa Paste, MCT Oil, Maltitol, Inulin, Pink Himalayan Salt, Monk Fruit Extract, Vanilla
A little pricey, but worth it if you're down with the cause. Imagine healthy chocolate fudge available at any time of the day. Thebacking behind this "healthy" statement comes from the fact that each individual packet contains 20% of your daily fiber and only one gram of sugar. Each packet is packed with 10g of brain-boosting and heart-healthy MCT oil. If you're looking for a Keto on-the-go snack that provides you with the most sustainable energy than this one's for you.
Realgood Foods 5" Personal Pizza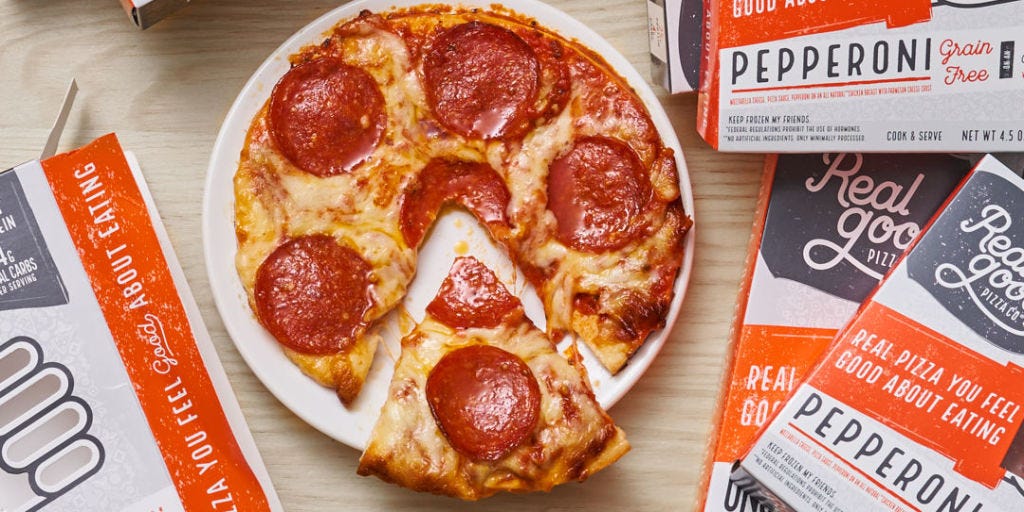 Real Good foods showed us that nothing is impossible. Making a low-carb pizza is as innovative as …. The iPhone? 10 out of 10 for each of their pizza flavors. Haven't got to try their new low-carb enchiladas but I am sure they will be yummy. The pizza crust is made out of all-natural chicken breast so that's where all the carbs went. If only there was a Realgood Foods pizza delivery service.
FBOMB Nut Butter
Full disclosure: FBOMB does not stand for what you think it stands for. NO it stands for Fat Bomb! 10/10 on yumminess. They only use three to four ingredients which is AWESOME! These are very similar to the Ketomanna as they are both perfect on-to-go shots of energy for those staying true to their keto diets. FBOMB has Nut Butter shots and healthy oil shots like MCT oil and Avocado oil as well.
Moon Cheese
Ingredients: Cheddar Cheese [Pasteurized Milk, Cheese Culture, Salt, Enzymes, Annatto (Vegetable Color)].
Finally, an on-the-go cheese that won't go bad! No refrigeration necessary, all-natural, 0g of carbs, AND high in protein. This is the keto snack is a dream come true! Moon Cheese is by far our favorite here at Product Watch, especially the gouda which is sogood great. If you like a salty and savory snack then this one for you. Just a warning, you might end up eating the whole bag in one sitting.
Bundts of Steel
*Full Disclaimer*- this isn't a fully Keto-friendly snack but it just tastes way too good not to make the list. Guys this is high protein, high fat, and low sugar cake that actually tastes good! Net carbs come out to 13-14g per cake, which isn't too bad. So if you have room to spare at the end of the day and want some sweet, moist cake then get yo self some Bundts of Steel. They have gluten-free and lactose-free options as well. Best flavor: COOKIE BUTTER.
Want to put your keto cooking skills to the test?
Head over to our favorite, keto-friendly recipe maker @ Low Carb Yum to find some of the best keto snacks you can try to make yourself!